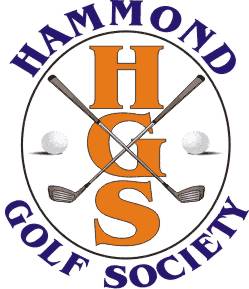 Course : Traditions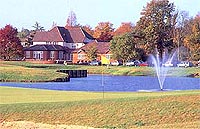 Traditions Clubhouse
Traditions was opened in 1999 and was designed By Peter Alliss. Four lakes and countless ditches add up to water coming into play on all but five holes, and if you are anything but right on your game, you are going to find some of it.

Despite its very English creator, it is an American style course. Entry to most of the greens is guarded either by a ditch or one of the many large bunkers, which means most approach shots need to be both accurate and airborne.

There are some very good holes at Traditions.
6304 yards - Par 71

The 1st a dogleg par four just short of 400yds requires an accurate drive/3 wood/long iron, which must find the fairway if you are going to have a go at it in two. Your approach, with a short to mid iron, has to carry the ditch guarding the front of the steeply sloping green. If you miss the fairway, going for it becomes a risky option and good sense is to lay up. Unless you hit it close, it is unlikely you will take fewer than two putts to get down, so if you make four here you could be looking at a good round. A lot of stiff handicappers will find making six here very easy to do which puts you on the back foot almost before the round has really begun.

The 2nd requires an accurate tee shot of around 200yds to a narrow fairway surrounded by ditches and deep rough. Your second shot of around 150yds again must carry all the way to the green which is guarded in front by a massive bunker and behind by another ditch. A tough start indeed.

You don't really get to open your shoulders with the driver until the 5th. The opening holes demand accuracy rather than length and it is not until you step on the tee of this, the first of three par fives, that you feel you can risk the big club.

All of the par fives at Traditions are "sporting", if you get a good drive away, you have a chance of going for it in two.

The 6th is a difficult short hole demanding another accurate mid/long iron. The front and left of the green is guarded by a ditch and there is no bail out right.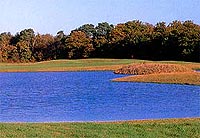 The Difficult 13th Over the Lake
The 13th is a par four of almost 400yds. A lake runs almost the entire length of the right side of the fairway meaning anything sliced (by a right hander) is as good as dead, The Mutants among us should like this one! The green has a massive slope in it and is guarded behind by a ditch. You may make a four here, you could also make 24!

If not already, the 16th should be the signature hole at Traditions. A short par five of just over 450 yards where you can make anything from a three to a ten. The hole is "S" shaped with the tee being at the bottom of the "S" and the green at the top.

Another accurate tee shot is required regardless of whether you are going for the green in two or not. Anything left off the tee is out-of-bounds and hitting it right will find some pretty deep rough and make the hole much longer.

If you find the fairway you then have a decision. A big tee shot can leave you as little as a short to mid iron in, but it's almost all carry over water. If you choose to lay up, you still need to be accurate to leave yourself a 70yd pitch.

Another large bunker guards the front of the green and anything but good play could cost you a big number here.

The closing two holes are stiff par fours with more ditches and lakes waiting to swallow up anything other than good straight shots.

It was only opened in July '99 so it is a very young course, but it will mature and could become something very special. The clubhouse is an impressive and welcoming building with excellent food and cold drinks.
Directions....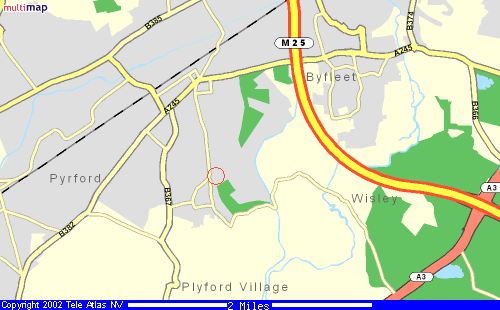 It's marked as Lees Farm on the map...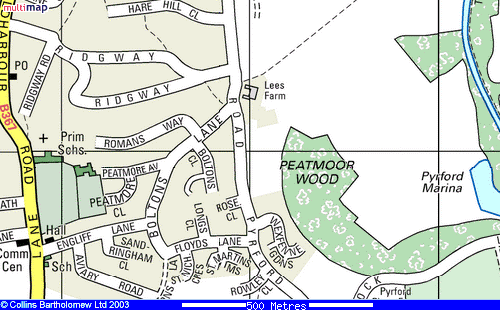 You can see the lake on the 13th on the arial view below...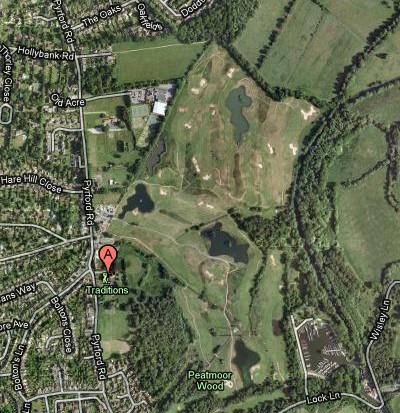 Tel : 01932 350353
Pyrford Road
Pyrford
Woking
Surrey
GU22 8UE