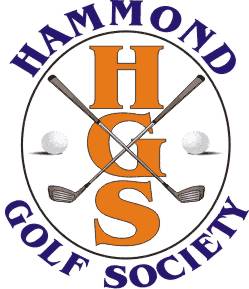 Yearly Event : 2004

THE 2004 RYDER CUP
** 10th Anniversary Event**
at Le Golf National
in France
Thursday 13th - Monday 17th May 2004
---
Photo's Say It All!

Beautiful.....Classy!

But Narrow .... and It's a Tricky Links Course!

Water, Water Everywhere!
Albatros Course (above) is Manicured, Eagle (Aigle) course is easier and more forgiving.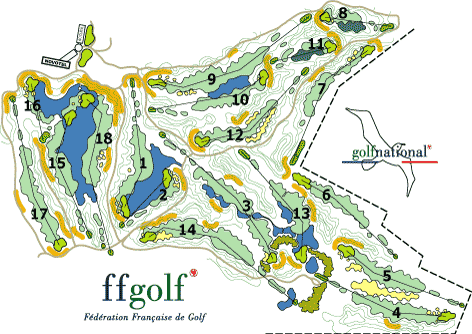 The Albatross Course Layout
What You get
4 Nights Accommodation (2 Sharing Twin Room at onsite Novotel Hotel)
4 Breakfasts
4 Dinners
3 Rounds of Golf on The Albatross (Stableford, Fourballs & Singles Competitions)
2 Rounds of Golf on The Aigle (Stableford & Greensomes Competitions)
9 Holes on the Birdie Course (Knockout Competition)
What Is The Format?
| | | |
| --- | --- | --- |
| Date | Tee Time | Competition |
| Thursday 13th May | 13.30 | 18 Hole Stableford Competition (Albatros Course) |
| Friday 14th May | 10:30 | 18 Hole Stableford Competition (Aigle Course) |
| Saturday 15th May | 09:30 | 18 Hole Fourball Competition (Albatros Course) |
| Sunday 16th May | 09:00 | 9 Hole Knockout Competition (Birdie Course) |
| Sunday 16th May | 11:00 appx | 18 Hole Greensomes Competition (Aigle Course) |
| Monday 17th May | 08:00 | 18 Hole Singles Competition (Albatros Course) |
| Monday 17th May | 14:00 | Leave Le Golf National |
Costs
The pre-paid Event Costs will be £460
You will need to pay additional for you own travel arrangements
Where Is It?
About 25km south-west of Paris off the A13/A12 six miles from Versailles.
Address:
Le Golf National
2 Avenue du Golf
78280 Guyancourt
France
Tel : +33 (0)1 30 43 36 00 Fax : +33 (0)1 30 43 85 58
Directions & Maps
This is entirely up to you, depending on what method of transport you are taking. Plane to Charles De Gaul then a Taxi, or Eurostar to Calais or Paris and the remainder of the journey by car, or indeed a Ferry to a french port and drive from there...
Another idea would be to hire minibuses to take 6 or more people at once from various locations here all the way to the Venue. Costs would obviously need to be worked out.
Travel Example
Terry has calculated that taking a car on Eurostar with 3 people sharing (leaving room for the bags and clubs!) would work out at:
Approximately £40 each + the additional petrol costs shared.
There is a 07:36 Departure on Thursday Morning arriving in France (09:15 french time [1 hr ahead]), leaving you ample time to get to the venue.
Of course there are other time which can be viewed on the eurotunnel website
Tee off will be around 1:30pm
Click Here For Maps & Detailed Directions


Summary Of Venue/Courses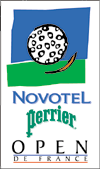 'The Albatross' (now the regular venue for the Novotel Perrier French Open) - 18 holes 6500 metres championship course with severe water hazards and winding fairways Par 72 (Not for those with Hooks and Slices!)
'The Eagle' - 18 holes 6000 metres Par 72 for experienced players
(NOT PLAYING THIS!) 'The Birdie' - 9 holes 2100 metres beginners' course Par 32 and driving range
'The Par' - a warm-up practice course. Putting greens.
Website Links
The Hotel n Stuff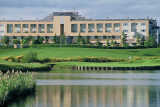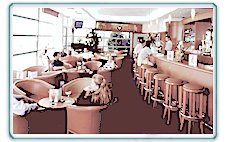 There are 131 spacious comfortable rooms. They say you will appreciate the professionalism of their service staff nicely blended with a mark of conviviality you expect in a golfing resort! But that's what's in their brochure! Don't forget they're French, we are de English!
The Novotel has Two restaurants, two bars, a swimming pool, a well appointed fitness centre, tennis courts, bicycles & of course the best golf in the region are available on site. A large array of historical and cultural landmarks are nearby (Versailles & the Vallée de Chevreuse)
Hotel Number :-+33 (0)1 30 57 65 65 Fax:- +33 (0)1 30 57 65 00


A Bit Of History
The French Golf Federation's Executive Committee and its President Claude Cartier decided the construction of the Golf National in September 1985. Three years of work, from July 1987 to October 1990 finalised the course. It was then inaugurated by Ray Floyd, Greg Norman, Jeff Sluman and Marc Farry.
Hubert Chesneau golf-course designer was invited to create from past corn fields of over 139 hectares (350 acres), around the Chateau of Versailles (once home of Louis X1V), a Stadium course of International stature. On completion The Golf National would not only be the home for the French Open but also a centre for both National and International Championships. It would also be open throughout the year to the amateur golfer on a pay as you play basis.
The concept was based on opening a tip for roads or building diggings.
The Land before the Construction even got started...


400 lorries a day moved a total of 1600,000 cubic metres of material with a further 600,000 removed to create water hazards. It was a tremendous challenge.

As the course was created from a "clay base" it was essential that irrigation be of major importance so that the fairways would remain dry whilst any water would flow into the "hazards".
One might be surprised with a links course with water hazards. These hazards and rolling terrain similar to that found in many Scottish Links courses became the concept. Trees took too long to grow in a short period of time when the course had to be, from 1991, a championship course. The hillocks or hummocks offered excellent facilities for television coverage of future championships.
After the inauguration of The Golf National, the Albatros Course was the venue for the first French Open in June 1991 when, in a day of both wind and rain, Nick Faldo described the course as both tough but fair. Faldo was not the only world-class player to speak favourably of The Golf National, and it was of prime importance that many others supported Faldo. In March 1994 Golf Weekly ranked The Albatros Course 3rd European Championship Course through a survey carried out within the PGA Tour Professionals.
The Albatros Course is now the permanent venue of the French Open.
The Oiselet (Birdie) 9 hole course was opened in April 1991 and the Aigle (Eagle) 18 hole - in November 1991